On March 14, Atlantic Plywood gathered with friends, family, and vendors to support our President, Paul Vella, and his band Old Dogs New Tricks at the Third Annual Band Against Cancer. Joining the band this year was none other than our own Kevin Chouinard, drummer extraordinaire. Each year, all profits are donated to Boston's Dana-Farber Cancer Institute. The Dana-Farber Institute specializes in adult and pediatric cancer care and research to improve the chances of survival for cancer patients around the world.
Thanks to our Corporate Sponsors, donations, ticket sales, and raffle sales, we raised $55,000 for Dana Farber. On Thursday, May 28, the Old Dogs New Tricks visited the Institute to present them with the donation. Including this year's donation, the Band Against Cancer has raised more than $125,000 for the Jimmy Fund in 3 years.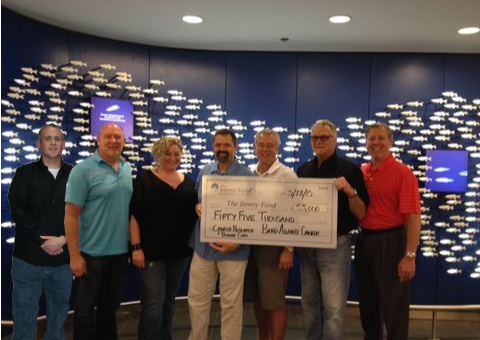 A special thank you to Mike Natale and David Beaudry for their assistance again this year. We would not be where we are today without them. We would also like to extend our gratitude to Eric Brooks and Tom Manzi for joining David in making the raffle the most entertaining part of the evening.
Before the picture overload, we would like to recognize our sponsors who helped us reach our goal this year.
Platinum
Columbia Forest Products
Gold
Formica Corporation
Silver
Arauco
Enterprise
Hutton Forest Products
Oceanside Rubbish
Bronze
Darlington Veneer
Fred Church
ML Campbell
Salt International
Tafisa
Copper
Blum
CA Technologies
Choice Brands
Edgemate
Extira
Far East American
Garnica
Georgia Pacific
Hi Tech Veneer
IKE
IMG
Interior Products
Island Propane
IWCI
L&S
Luxe/Grupo Alvic
Mirka
Nitco
Plum Creek
Richwood
Russell Plywood
Steel Equities
Sierra Pine
Uniboard
Veneer One
Veneer Tech
We would also like to thank those individuals and companies who donated raffle prizes:
The Davis Family
The Brehaut Family
The Lyon Family
The Ekstedt Family
The Natale Family
The Beaudry Family
Neil Madramootoo
Mt. Sunapee Resort
Crossfit Nor-Conn
Tri-City Sales 
ML Campbell 
The Haven