In January, we once again gathered together for our Annual Sales Meeting in Albany, NY. After a big year in 2015 where we launched our new partnership with Formica® Corporation, this year's meeting was focused on sales and technology training. Our IT Department worked hard the last few months to get the newest version of our CRM program ready to launch at the meeting.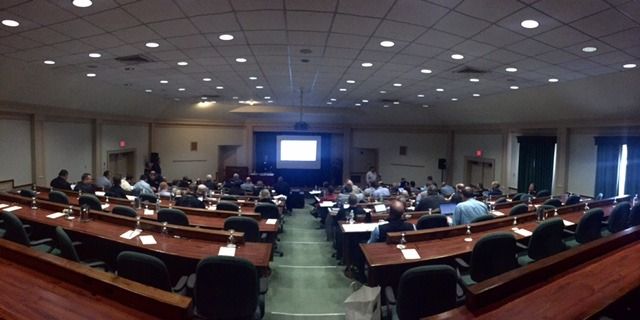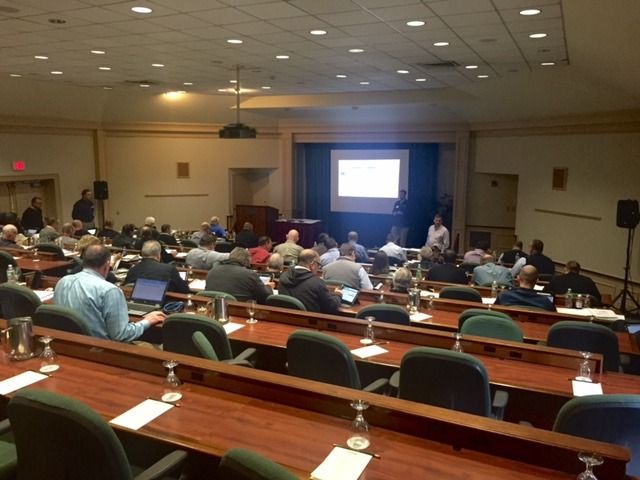 Our day concluded as it always does with our Award ceremony and dinner, where we get the chance to recognize some of our exceptional employees.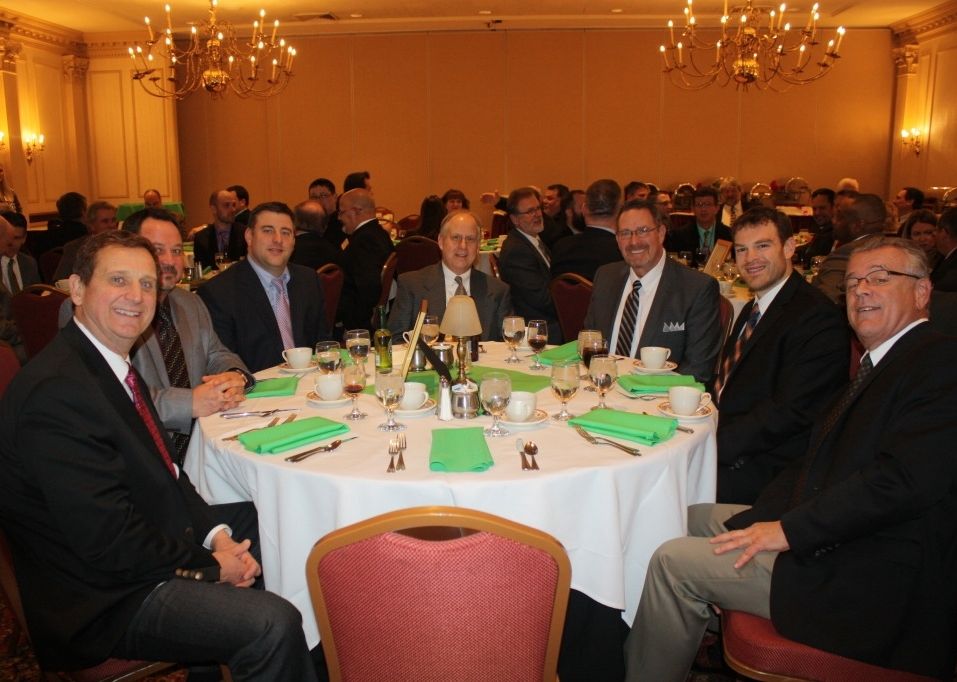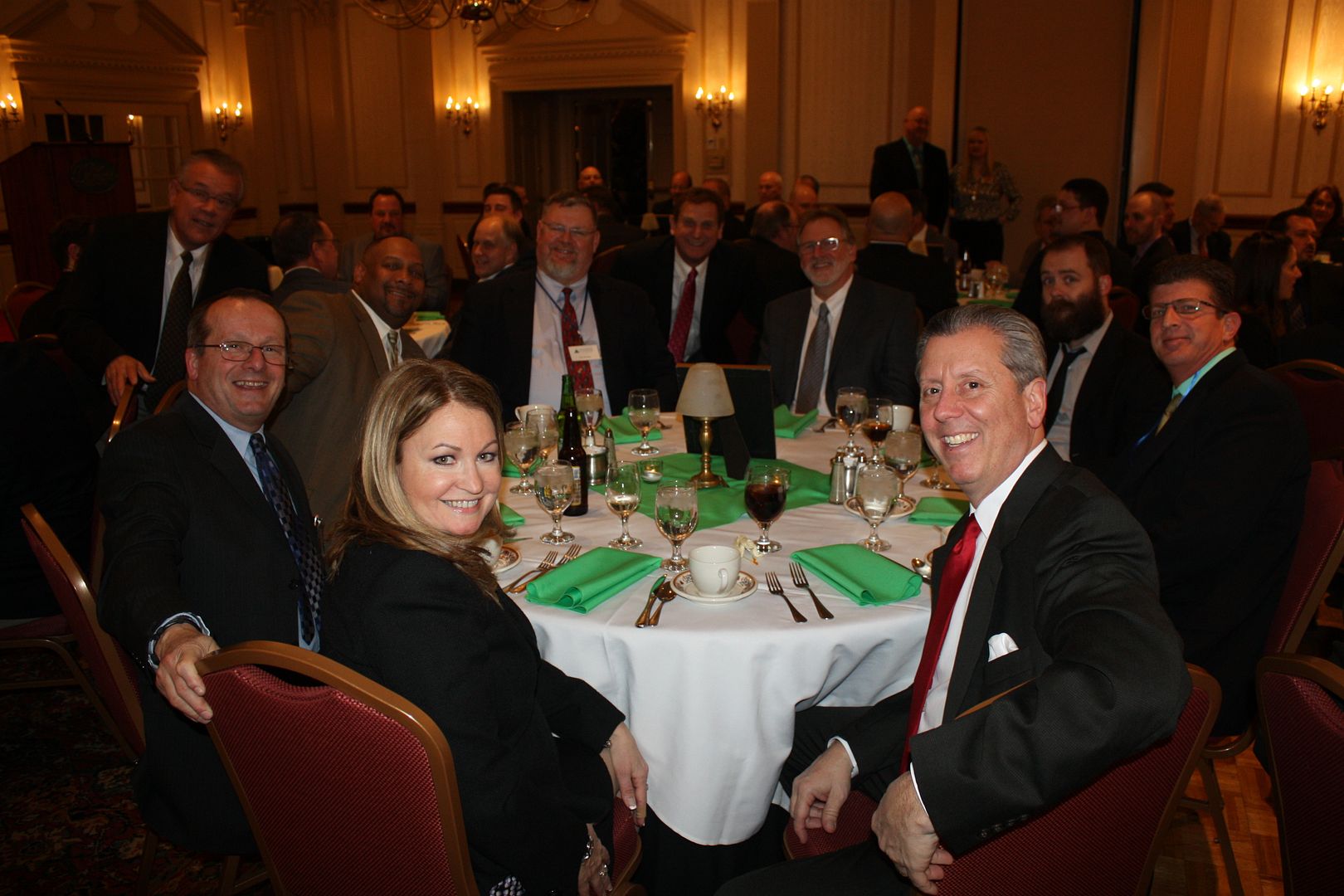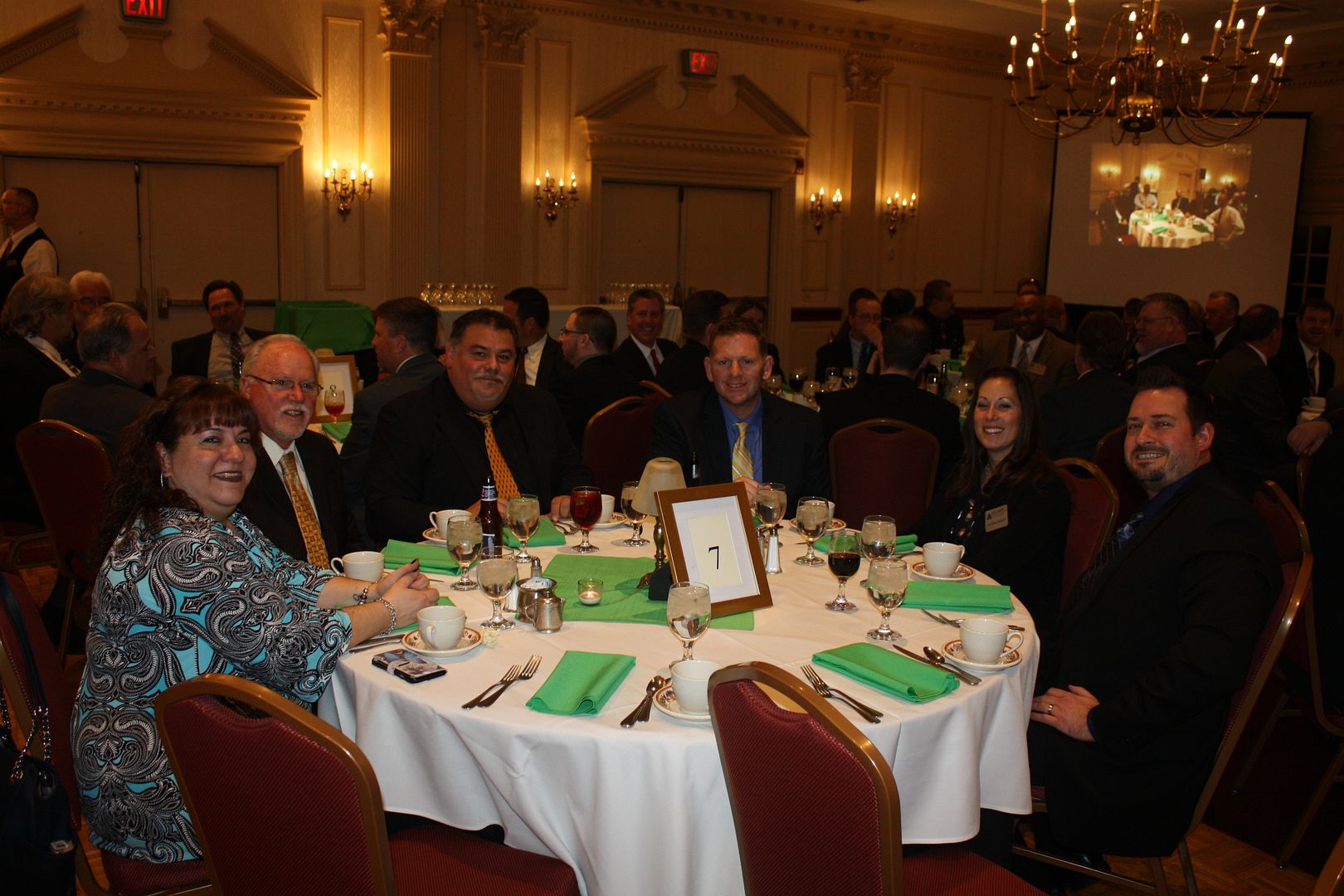 We started the night with an opening greeting from our President, Paul Vella, who gave out a special prize to those individuals who excelled in participation during our training sessions.
Each year we take a moment to recognize those employees who reached milestone anniversaries during the previous year.
10 Years:
Sean McDonald
Dana Ames
Mike Crockett
15 Years:
Mike Hachey
20 Years:
Darcie McFadries
25 Years:
Robert Dudley
30 Years:
Jim Norcross
Matt Willard
35 Years:
Buddy Lafayette
This year marked the first time in more than 25 years that John Blakeney was not with us to share his "Fun Facts" during his annual wrap-up. After 26 years with Atlantic Plywood, John retired from his role of CFO on Jan 1, 2016.  During his tenure at Atlantic, he guided us through the ownership of our founders, to the sale to Longpoint Capital, to the formation of our current ESOP.  His dedication, honesty, intelligence, and common sense were always at the forefront and have enabled Atlantic Plywood to become successful during all of our ownership structures.  Not only was John a stellar CFO, his business acumen was instrumental in all of our major decisions.  He was well respected by all who interacted with APC on a financial level and was considered by many to be the best CFO in our industry. While John will remain with Atlantic in an advisory role for now, we wish him the best as he improves his golf game and spends time with his new grandchild.
Replacing John is a huge feat and we have tapped two people to assist in the transition. Jeff Engelbrecht has been promoted to VP of Operations and will oversee all Warehousing, IT, Operations, Safety, and Logistics. Additionally, Wayne Moriarty has been promoted to VP of Finance. Wayne will oversee our Credit, Accounting, HR, and Purchasing departments. Congratulations to both!
The first award of the night was the Pride Award. This award is given each year to individuals who make an extra effort to make a difference in their branch and at Atlantic Plywood as a whole. The people that receive this award have not only consistently accomplished the task and goals that have been asked of them, but have also shown a strong commitment to Atlantic's missions and values. They take great Pride in not only getting the job done, but also going beyond what is expected of them in contributing their time, energy, and talents to further the growth and development of our Company.
Pride is a personal commitment! It is an attitude which separates! Because to them "It is a Matter of Pride"
This year's winners were: Jason Pacheco- East Providence; Ben Tibbetts- South Windsor, NPP; Mark Fisher- Carlstadt; Tim Woodger- Corporate.
Jason Pacheco: Jason takes immense pride in his work and is huge resource for Radio Beacon issues,  Value Add, branch level  IT, and Product Knowledge- he's our overall BLUM Expert, KV Expert, Luxe Expert, Element Designs Expert and also oversees the Beadboard operation in E. Providence.  Many Salesmen rely on Jason to help get things done quickly, efficiently and correctly.
Ben Tibbetts: Ben takes care to document each detail and then even more importantly, communicate with all involved people with regards to NPP orders/problems. Ben has been instrumental in helping us secure numerous Redilam orders by chasing down lead times for core and face material and nailing down lead times prior to even having an order in hand.  We expect Ben will continue to be a huge resource to help us to continue to grow sales and market share in this product category.
Mark Fisher: Mark's title may be warehouse supervisor, but he certainly does more than that. Besides running a clean, efficient, and accurate warehouse, he works well with the OSRs to make sure we service our customers to the best of our abilities. He even takes sales orders from customers and outside sales reps as well. Mark has helped NJ to become the newest HUB for Formica. His knowledge of radio beacon and Nxtrend is outstanding. With his can-do attitude, the future is very bright for the New Jersey branch.
Tim Woodger: Over the years Tim has proved to be a valuable asset to Atlantic Plywood and 2015 was no different. Tim has been instrumental in the success of the Formica laminate rollout as well as the organization of the ML Campbell Department over the past year. Beginning in January, Tim was hauling steel into the air erecting laminate racks in New Jersey, only to turn around and do it a few months later in Bethpage. Furthermore, Tim has been a rock of stability in the ML Campbell department in a year filled with transition. From revamping storage rooms for bulk purchases to training, to covering for personnel Tim has been a crucial lynch pin in the success of the paint department as a whole. Tim Woodger approaches any challenge presented to him with determination, safety, and efficiency and does anything he can to make Atlantic Plywood a better company.
The next award was the Above & Beyond Award.  This award is a way to recognize the outstanding commitment demonstrated by employees who consistently exceed expectations in the performance of their duties. These employees continually go beyond what is expected of them and do whatever is necessary to accomplish the task assigned.  He or she is continually willing to go above and beyond their regular job responsibilities and show the ability and willingness to work cooperatively with fellow employees and management.  Often, these unsung acts of service go unrecognized.
The first winner this year was Dave Laing- Woburn.  Dave Laing consistently does more than inside sales function to help the branch and company in many ways. As a guy who maintains his Class B drivers license, Dave drove delivery trucks several times when drivers were out sick or any other time when asked. Dave drove trucks to New Jersey for body swaps on several occasions. Dave made several night and weekend trips to the Woburn branch to address alarm issue on nights and weekends. Dave has put the team and the Company above himself to help wherever and whenever asked.
The second winner this year was Joel Wilson- Rochester. Occasionally, you have an employee that stands out not only in sales, but in every aspect of what he does on a daily basis. Someone that keeps a positive attitude no matter the situation. This year's winner is a family man with two small children and a wife at home, who knows his job is never done. He was given his goals at the beginning of the year and he told his manager, "No, we are going to do way more than that." and that is exactly what he did! Through hard work, long hours, working from the office, working in the field and at times even delivering his own products, Joel Wilson has demonstrated what it means to deserve the Above and Beyond award.
The next award given out was for Inside Sales Rep of the Year. This person exemplifies what we feel Atlantic Plywood inside salespeople of the future should be- in work ethic, intelligence, follow through, pride of accomplishment, and overall attitude.  He/She is perceived by his/her peers to be the Best of the Best. The nominees for ISR of the Year were: Pete Correia- East Providence, and Bill Littell- Westbrook. This year's winner was Bill Littell. Bill has always been a customer favorite. In 2015 Bill increased the number of sales orders generated by over 1800. Of the 8 inside sales reps in the Woburn/Westbrook/Providence Region, Bill was the only one to increase his sales, margins, and number of orders written in 2015.
The next award was for Product Specialist of the Year. This person should best represent and have accomplished the goals set forth by his/her product manager.  He or she should not only be a great sales representative of Atlantic Plywood, but also a great teacher of his or her product line.  He or she must show quantitative results in selling their product line and also be perceived as the best by their peers. This year's nominees were: Joel Wilson- Lacquer Specialist, Rochester, Matt Griffin- Lacquer Specialist, Westbrook. Those of you who work with this person know he is a consummate Professional and takes on all challenges head on. His product growth exceeded 15% in 2015 and his level of customer service is unmatched.  Congratulations to this year's winner- Matt Griffin.
Our next award was a first this year. The top award is named for an individual who has excelled in his or her particular field over many years and whose name has become synonymous with being the absolute best in that field. Last year we had the honor of recognizing Bob McKenna and his accomplishments in his time at Atlantic Plywood. The 2015 award for Outside Sales Rep of the year was renamed the Bob McKenna Award for Excellence. Nominees for this award best represent and have accomplished the goals that each manager has set forth for that individual.  He/She is a good representative of Atlantic Plywood on the street and shows quantitative results in selling the whole product line. He/She is perceived by their peers as the best of the best! This year's nominees were Tom Rader- Rochester, Lew Paine- Westbrook, Arsenio Alvarez- Carlstadt, and Chris Ripley- East Providence. 
This year's winner showed a total increase in sales of 24% over 2014. He showed increases in over 30 of our product lines including hardwood plywood, pre-finished plywood, ML Campbell, Redilam, and Abrasives.  He is also very well respected in both his market and by his peers.
For the first ever winner of the Bob McKenna Award for Excellence, congratulations to Tom Rader.
Our final individual awards of the night were for our Gold Circle of Excellence. The Gold Circle recognizes those individuals who not only accept difficult assignments, but complete them with results beyond expectations. These individuals recognize challenges on their own and take it upon themselves to find a solution or come up with an idea that will make Atlantic Plywood a better company.
To all of us, these individuals are worth their weight in gold.
Past winners include Gail O'Keefe, David Beaudry, Jeff Engelbrecht, Wayne Moriarty, Tom Palie, Lew Paine, Earl Nelson and Charlie Woodger, Bob McKenna, Pete Correia, Ken Gill, Sean McDonald, David Prifti and Eric Brooks.
Each of these individuals received an engraved watch and a Solid Gold Eagle coin and has their name engraved on the Gold Circle of Excellence plaque that hangs in the corporate offices reception area for all to see.
This year's Gold Circle winner is someone who has been with Atlantic Plywood for more than 18 years. This recipient has performed very consistently over the years in supporting all branches. This person has taken on additional responsibilities over the years as the company has grown and handled them with the highest efficiency. This person plays a key support role to all locations and departments and has daily interaction with many people. This person is a person many people in this room have turned to in their time of need and this person has come through for them and taken care of them. This person has shown the utmost dedication to Atlantic Plywood and making it a successful business. This person stays at the office when work needs to be done and puts in whatever time needed to get the job done. This person keeps tabs on many of the company assets, many times better than the person who is in charge of those assets. You are not likely to find a person at Atlantic Plywood location that this person has not had a positive impact on. Congratulations to this year's winner- Ann Marie Forrester!
We added a special award this year for Most Improved Branch/Region. This region improved from prior year by posting a substantial increase in both sales and gross profit. This region decreased their expenses while exceeding their 2015 sales targets. Congratulations to the Rochester/Albany Region!
Our final award of the evening was for Branch of the Year. This branch increased sales significantly while also decreasing expenses. This branch exceeded their 2-15 budget by 25%.  They top all branches in efficiency and handling of daily transfers between branches. We have seen tremendous growth in volume and efficiency in their Redilam Department and their Call Center rates among the best in servicing our customers. Their talented sales staff and product specialists worked as a team in 2015 to generate great results. This year's branch of the year was South Windsor, CT.
Congratulations to all of this year's winners! We are looking forward to another exceptional year in 2016!